.innamissions., hosted by J.Pulaski , is a weekly radio program aired on KUCI 88.9fm and based out of UC Irvine, California. Show features a wide array of music revolving around funk, soul, jazz, hip hop, reggae, world beat and periodic guest mixes. Tune in every week on the internet (www.kuci.org) and in the Orange County area at 88.9fm on your dial.
Innamissions playlist for 5-30-2016
Back on air tonight live in the studio with new music from: dEbruit, Badbadnotgood, Parra for Cuva, Gold Panda, InQi-TeKa, Sarathy Korwar, Fakear, Ernest Gonzales and more!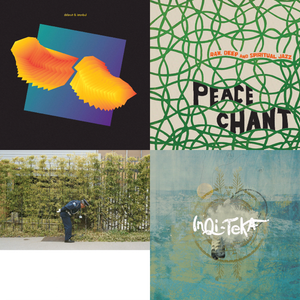 | Artist | Title | Album | Label |
| --- | --- | --- | --- |
| khruang bin | a calf born in winter | a calf born in winter 7" | late night tales |
| ernest gonzales | and all eternity | and all eternity | exponential |
| sarathy korwar | indefinite leave to remain | day to day | ninja tune |
| badbadnotgood | time moves slow (feat. samuel t. herring) | IV | innovative leisure |
| parra for cuva & senoy | auryn | darwis | project mooncircle |
| gold panda | metal bird | good luck and do your best | city slang |
| fakear | sheer kan | animal | counter |
| inqiteka | gwezenn ha telenn | inqiteka | inqiteka |
| badbadnotgood | speaking gently | IV | innovative leisure |
| hugo kant | odissi | v/a: soul machinist | the french touch connection |
| sarathy korwar | mawra (transcendence) | day to day | ninja tune |
| genghis kyle | bakit ba | v/a: peace chant vol. 1 | tramp records |
| goldenes zeitalter | don't give up your smile today | v/a: peace chant vol. 1 | tramp records |
| build an ark | you've gotta have freedom (j.rocc remix) | remixes vol. 1 e.p. | plug research |
| soul II soul | back to life (scrimshire edit) | scrimshire edits vol. 2 | scrimshire |
| bohannon | save their souls (poolside edit) | | poolside |
| 10.4 rog | sidewalking | pomo presents tempo dreams vol. 4 | bastard jazz |
| inqiteka | l'aveugle a son miroir | inqiteka | inqiteka |
| debruit | above the bosphorus | debruit & istanbul | ici |
| debruit | duman feat. murat ertel | debruit & istanbul | ici |
| sergio ferraresi | time of machines | dj format's psych out | bbe |
| aleksandr sergeyevich zatsepin | the shaman's dance | dj format's psych out | bbe |
| june morrison | suzie thundertussy (nirobi edi) | | white |
| the tijuana brats | karate chop | dj format's psych out | bbe |
| walt bolen | peace chant | v/a: peace chant vol. 1 | tramp records |
| sidiku buari | anokwar (hide & smile re edit) | anokwar (truth) | soundway |
| lakuta | bata boy (wrongtom remix) | bata boy | tru thoughts |
| ahmed fakroun | nisyan | compilation | fakroun music |
| gold panda | chiba nights | good luck and do your best | city slang |