.innamissions., hosted by J.Pulaski , is a weekly radio program aired on KUCI 88.9fm and based out of UC Irvine, California. Show features a wide array of music revolving around funk, soul, jazz, hip hop, reggae, world beat and periodic guest mixes. Tune in every week on the internet (www.kuci.org) and in the Orange County area at 88.9fm on your dial.
Innamissions playlist for 4-25-2016
New music tonight from Modified Man, Werkha, Konono no.1, Khun Narin, Family Atlantica, St. Germain and more...plus...ticket giveaway to check Floating Points and his ensemble this Wednesday at Observatory OC.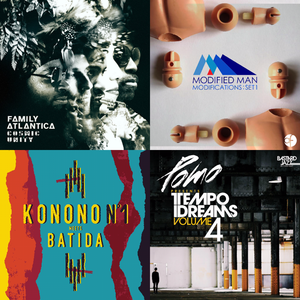 | Artist | Title | Album | Label |
| --- | --- | --- | --- |
| bob and wisdom | i believe in music | jamaica to toronto | light in the attic |
| floating points | silhouettes (I, II & III) | elania | luaka bop |
| bei bei & shawn lee | make me stronger (floating points remix) | beauty and the beats e.p. | ubiquity |
| floating points | marilyn | marilyn | eglo |
| mux mool | brothers | planet high school | ghostly |
| taylor mcferrin | postpartum (dorian concept remix) | postpartum | brainfeeder |
| werkha | a revolution blue (contours remix) | city shuffle e.p. | tru thoughts |
| geotheory | gran turismo (prologue) | pomo presents tempo dreams vol. 4 | bastard jazz |
| modified man | modification | modifications: set 1 | albert's favourites |
| bosq | cumbia en bahia | celestial strut | ubiquity |
| konono no.1 | tokolanda | konono no.1 meets batida | crammed discs |
| zafari | addis ababa | beyond addis | trikont |
| family atlantica | enjera | cosmic unity | soundway |
| khun narin | thang jai thang jao | II | innovative leisure |
| st. germain | real blues (dj deep & romain poncet remix) | sittin here / real blues remixes | parlophone france |
| henri pierre noel | a fifth of beethoven (the reflex revision) | the reflex revisions e.p. | wah wah 45's |
| sans soleil | you got me | you got me / whole lotta soul | confunktion |
| romare | james | james | ninja tune |
| rabbits & carrots | las 4 culturas | soul latino | vampi soul |
| sola rosa | get it together | get it together | melting pot music |
| evinha | esperar pra ver | esperar pra ver | mr. bongo |